25. AS CATEDRAIS, LUGO
Located on the Cantabrian Sea, in the Galician province of Lugo, As Catedrais owes its name -and its presence on the list of the most beautiful beaches on the planet- to the curious arches up to 30 metres high and to the caves that the erosion of the sea and the wind have sculpted in the rock. It is one of the most spectacular beaches in Spain.
These formations can be seen, above all, from the beach during the hours of low tide, when it is possible to enter some caves or walk under the flying buttresses. A short distance away, in the estuary of Ribadeo, you can follow a section of the Camino de Santiago.
26. AGUADILLA – PUERTO RICO
The northwest corner of the island of Puerto Rico is home to the attractive Aguadilla beach, a tongue of sand bordered by palm trees that turn orange as the sun begins to sink into the Caribbean. Diving, snorkeling, hiking, windsurfing… Aguadilla and the nearby island of Culebra offer a thousand activities to make the most of your days. On the latter, you can't miss swimming in the horseshoe-shaped Flamenco beach, as well as visiting the National Wildlife Refuge of Culebra, a protected area since 1909.
27. SAN BLAS (PANAMA)
This archipelago located in the middle of the Caribbean is everything that any beach lover can dream of: white sand, nice coconut trees and tropical sea. Added to that is the fact that on these islets everything is peace and quiet, making it possible to enjoy paradise in a unique and exceptional way.
28. Reynisfjara – Iceland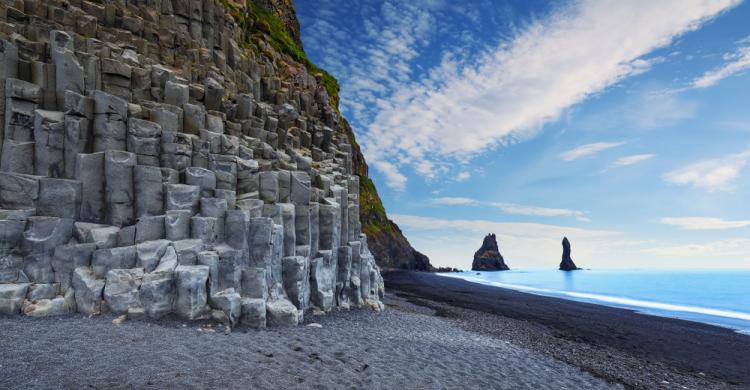 It takes a brave person to swim in this beach because it is so cold, but there is nothing similar in the world.
Very different from any other beach on our list, the huge basalt rocks, powerful waves and black sand make this beach untamed and unusually beautiful. Stacks far from the shore add to the harshness of a scene you'll never forget.